Optimise your personal safety with WanderSafe
WanderSafe is on a mission to make travel safer for everyone, wherever you are going. The FREE WanderSafe smartphone app will help you signal your trusted network if you are in danger with a single swipe. It's 3x faster than your phone alone and critical when seconds matter.
We know that prevention is always the best solution when it comes to staying safe. That's why we are democratizing safety and giving you safety tips and walking route guides so you know how and where to stay safe when planning your trip or commute.
WanderSafe is proud to introduce 'beacon', the ultimate non-violent safety solution, made to fit comfortably and discreetly in the palm of your hand. Available in two fashion colors, Onyx and Pristine, The beacon has three powerful functions to assist in de-escalating a potentially unsafe situation.
The side-click 1000-lumen torch instantly illuminates a situation to give clarity to your surroundings. Pressed twice the light becomes a strobe. Feel you are in need of some help or want to attract some attention? Twist the top to activate a 140-decibel personal alarm. The device has anti-slip grips for wet weather and is ambidextrous by design.
The beacon most impressive function is the silent Assist button. Press the WanderSafe icon on the beacon and your three pre-set trusted emergency contacts will be notified via an SMS that you are in need of a call back urgently and provided a map with your exact geolocation coordinates so they can investigate and take appropriate next steps.
Beacon is the first of our smart solutions for vulnerable travelers and commuters. We believe that by currating safety information from trusted sources including law enforcement, anti-trafficking NGOs, OSAC and sovereign governments' travel advisories within the WanderSafe application and our smart beacons we can reduce human trafficking and violent/illicit crime.
In November 2018, we signed The Hague Accord with CrimeStoppers International formally pledging our commitment as a company to do our part to make the world safer.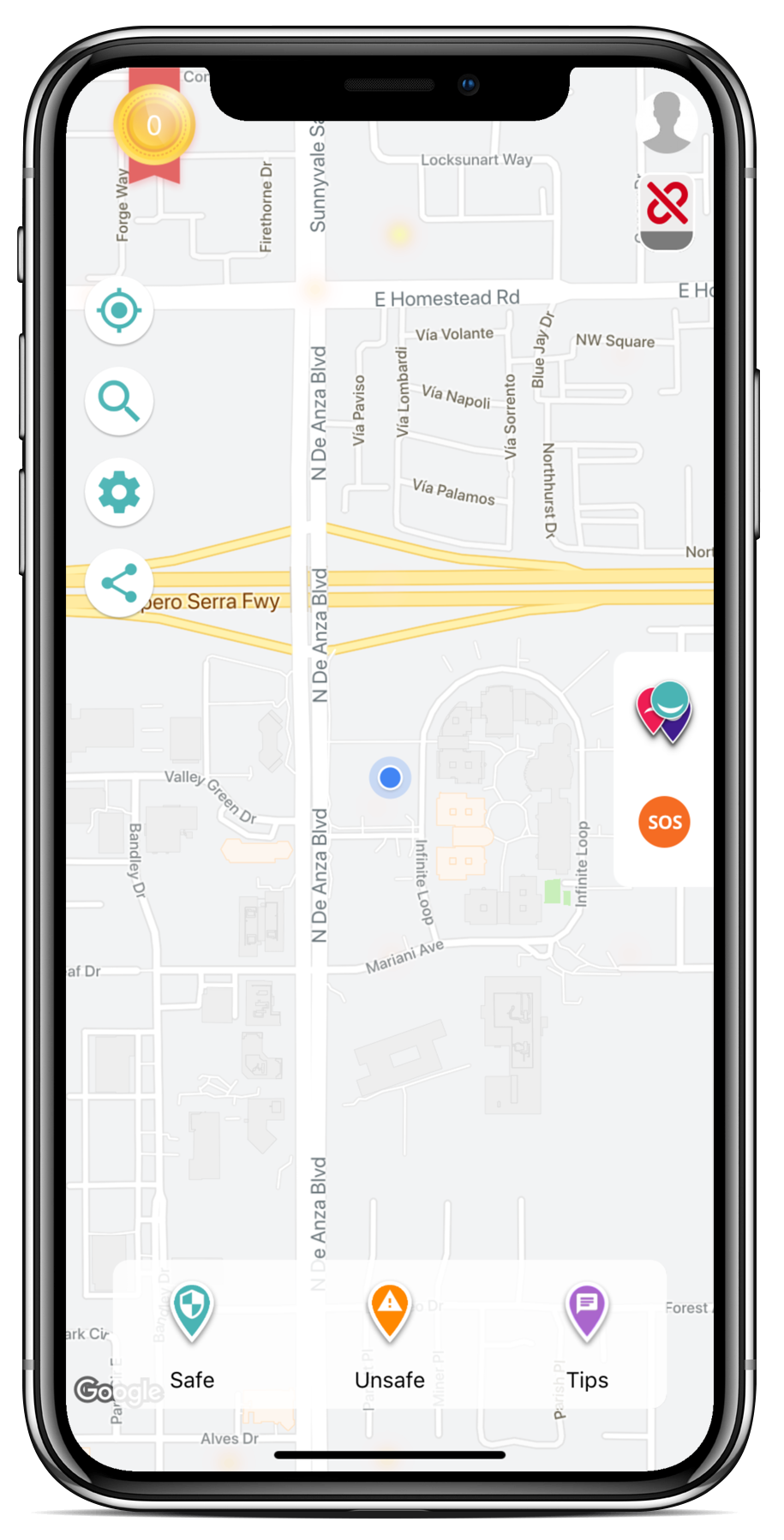 THE WANDERSAFE APPLICATION
More than just Maps…
The WanderSafe smartphone application is free to download and enjoy. The app gives you curated safety tips from  JENI, your virtual safety companion and includes location-based warnings, geopolitical travel advice, and other important things you might need to know about where you are. JENI thrives on feedback, and will always ask you "Do you feel safe?" You can simply say 'yep', or chose the 'nope' and select any one of the situations that may be making you feel uneasy. Got more to say? Use the 'chat' bubble feature to share what you see, and any photos related to your comments. You'll get rewarded Kudos for your feedback and your 'Hero' score will start to soar! 
Why WanderSafe
 There are more than 850 million women and vulnerable people traveling every year. There are more than 100,000 cases of human trafficking in the US alone. We couldn't find an existing non-violent ecosystem (hardware and software combo) to empower people to live without fear, so we created it.
Who Needs a 'beacon'?
The beacon is a perfect solution for a student, senior parent, remote worker, urban commuter, school age youth, and anyone who might feel vulnerable. The beacon is designed to keep everyone safe.
Who's behind WanderSafe?
We're a passionate team of safety experts (Thomas was in the CIA as a safety expert for more than 20 years!), technologists, global nomads, retired law enforcement officers, social impact investors and good citizens. Want to join our tribe? We're hiring! 
Why Traveler Love WanderSafe
After being a victim to a professional pickpocket at an ATM in Bali I am able to notify other travelers of hot spots for criminal activity that targets female solo travelers like me in broad daylight.

Jasreen Sidhu
Hong Kong
With WanderSafe I would have been more informed about what type of taxis to take and been able to have a more effective way of asking for help when I was abducted by a taxi driver.

Tracey Regimbal
Canada
March 14, 2019 Sydney Australia, WandeSafe CEO Stephenie Rodriguez talked about WanderSafe Beacons, employee safety, the plight of female founders, and the beacon for personal safety on Your Money Live from the NEWS HQ in Sydney Australia. This was after the important news about the beacons use case was addressed on the Real Estate Business […]
See all our news